Farmhouse wall clocks are rustic elements perfect for a country themed home decor. The farmhouse style wall clocks are unique clocks with a rugged look.
The country decor wall clocks helps you create a unique touch of country living. Choose one from these rustic farmhouse clocks to match your home decor style. Each clock is unique in design and will be a conversation starter.
The wood wall clocks inspired by nature have a rural feel. The metal wall clocks add an industrial style to the country decor.
Country Farmhouse Wall Clocks
Rustic Wood Country Farmhouse Square Wall Clock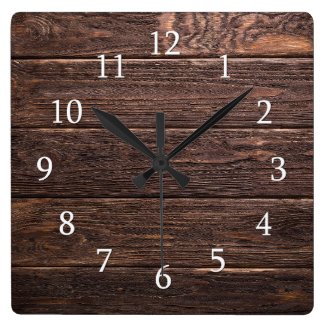 A rustic wall clock for your farmhouse kitchen decor. The wooden planks pattern adds a rugged country style look to the kitchen wall clock.
Rustic Country French Wall Clock
A rustic wood wall clock in french country style. You have a distressed wood clock face with roman numerals. A fleur de lis motif in the center adds to the french flavor.
The large french country wall clock compliments any farmhouse style decor.
Wood And Burlap Farmhouse Wall Clock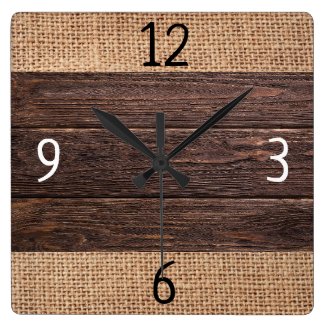 A rustic country kitchen wall clock with wood and burlap pattern. The farmhouse style wall clock with reclaimed wood plank print. The burlap border looks perfect for a country style decor.
Antique Farmhouse Clock
A farmhouse wall clock with an open design. The antique wall clock has exposed gears in the center and rustic wood numerals .
Hang the large wood wall clock on the wall for the rustic farmhouse feel.
Related : checkout these unique cuckoo clocks with a modern twist!
Large Farmhouse Wall Clocks
Metal Decor Wall Clock
A large metal clock with raised numerals that makes seeing time easy . The oversized farmhouse clock adds a stylish look to any wall it is on.

Add an industrial touch to your country style home decor.
Metal Windmill Wall Clock
A rustic metal wall clock designed like windmill blades. Each metal blade represents an hour . You have the numbers stamped on the blade to give it a vintage look.
The farmhouse style wall clock is perfect to accent your rustic country wall decor.
Large Barnwood Clock With Metal Frame
A large farmhouse wall clock with metal frame and solid wood base. This gives the large barnwood clock an antique vintage look.
The metal wall clock with roman numerals looks right for a rustic country style decor.
Related : Large decorative wall clocks to make an impact!
Personalized Wall Clocks With A Rustic look
Personalize and hang one of these rustic farmhouse clocks to display your family pride.
Related : Display your family photos in these unique picture frame wall clocks to share your happiness!
Rooster Wall Clocks For Kitchen Decor
Country Rooster Kitchen Square Wall Clock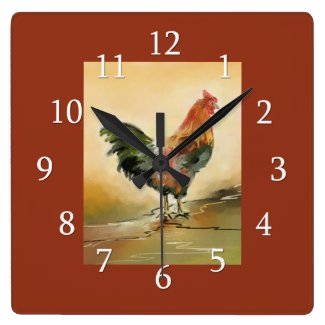 Country kitchen wall clock with rooster painting. The original digital painting of the rooster has a red frame around it.
Rustic Vintage Country Rooster Wall Clock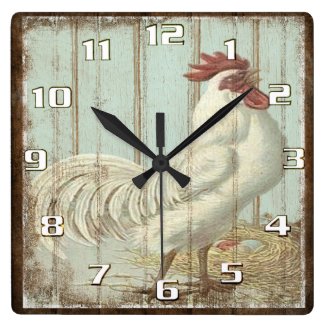 A farmhouse style wall clock with a vintage rooster image on distressed wood panels.
More choices in rooster clocks ….
Farmhouse Wall Clocks For Unique Country Decor
PIN IT – TO CHECK IDEAS LATER
Add rustic charm to your walls using primitive country wall clocks. The large farmhouse wall clocks are decor accents that lend a country charm to your home decor. Choose one for your home to give the right rustic feel!